Detroit: Become Human - PGW 2017 Gameplay Trailer
| | | |
| --- | --- | --- |
| | "How far would you go to be free?" | |
Detroit: Become Human is a neo-noir thriller drama game developed by Quantic Dream. Three protagonist androids are present throughout the game(Kara, Connor, and Markus) as they follow through an emotional journey with choices that must be taken in order for their ultimate 'cause', which can be defined many different ways depending on the values of the player. The game itself was released in May 25, 2018. The Digital Premium Version was released a day before at May 24, 2018.
Features
Edit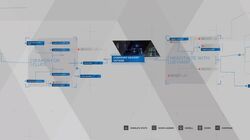 Set in Detroit during the year 2038, the city has been revitalized by the invention and introduction of androids into everyday life. But when androids start behaving as if they are alive, events begin to spin out of control. Step into the roles of the story's pivotal three playable characters, each with unique perspectives and abilities as they face their true selves and question their values. Depending on the player's choice, all playable characters can die in the course of the story. Therefore, the story can continue without any of them.
Higher gameplay difficulties result in shorter durations for players to analyze situations and respond to them. Additionally, making choices early in the game can lock out dialogue and action choices later in the game. A flowchart feature is included every time the player concludes an episode so that the player is enabled to check out on what they had missed out on. The flowchart could also be accessed by pausing the game. Players can compare the choices they have made with other players with visual percentages labeled next to their designated choices.
For some major decision points, players will have the ability to rollback to the beginning of the checkpoint to choose a different path. This will not be available all the time.
Chapters
Edit
Not every android is included in every chapter. The chapters can be found below, with each containing a flowchart and the technique used to gain 100% completion.
Soundtrack
Edit
Three different composers worked on this game and composed a unique soundtrack for each playable character.
For article see: Detroit: Become Human Soundtrack.
Digital Deluxe Edition
Edit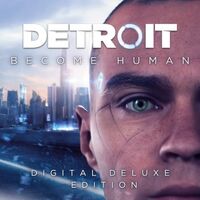 The Digital Deluxe Edition of Detroit: Become Human became available for purchase on May 24, 2018. It includes the following:
Detroit: Become Human PS4 Digital Full Game
Heavy Rain PS4 Digital Full Game
Digital Art Book
Digital Deluxe Soundtrack
2 X Detroit: Become Human Dynamic Themes
10 X Detroit: Become Human PSN Avatars
Concept Art
Edit
See also Category:Artwork.
External links
Edit